Leadership Team
Nick Butler - Principal
Nick Butler has been Principal of Saint Gabriel's College since September 2014. Prior to this, he had a series of senior leadership roles in London schools including Interim Headteacher of Battersea Park School in Wandsworth; Interim Headteacher of Quintin Kynaston School in Westminster and Acting Headteacher of St Michael and All Angels Academy in Southwark. Nick's first Senior Leadership role was as an Assistant Headteacher at Chestnut Grove School in Balham from 2002 to 2007 where his own children go to school.
Monique Bertrand - Vice Principal for Behaviour and Inclusion
Monique Bertrand is the Vice Principal – Behaviour and Inclusion. She is responsible for student wellbeing, pastoral care and safeguarding for the school. She looks after the prefects and line manages the SEND department and the school pastoral team. Monique has worked with Saint Gabriel's since September 2012, beginning her career here when the school was born as an Assistant Principal for Teaching and Learning. Monique started her career in another Lambeth school as a Head of Social Sciences. Outside of work Monique enjoys volunteering for Crisis and Local Food banks.
Kathryn Almond - Vice Principal for Achievement
Kathy Almond is the Vice Principal for Achievement. She leads the work of the Senior Leadership Achievement Team, responsible for the outcomes of students in all year groups. This includes curriculum, exams, enrichment and teaching and learning across the school. Kathy joined Saint Gabriel's College (as Charles Edward Brooke School) in 1999 as a modern languages teacher, and still thoroughly enjoys teaching French. She is also Head of the Languages and EAL Faculty and finds working in such a linguistically rich community very rewarding.
Bradley Cornish - KS3 Raising Achievement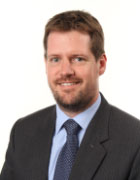 Bradley Cornish started his employment at Saint Gabriel's College in September 2002. Before joining the leadership team in 2016 as Assistant Principal for KS3 achievement, he was the head of the English Faculty. Bradley has always been passionate about improving the outcomes of our students and a key aspect of his role is to provide KS3 students with the skills necessary to make outstanding progress so that they are well prepared for KS4. He is also responsible for ensuring that students have a smooth transition from primary to secondary school so that they have a successful start at SGC.
Mia Chorfi - KS4 Raising Achievement
Mia Chorfi is the Assistant Principal for Key Stage Four Achievement. She also leads the Maths department within the school. Mia leads the work of the Year 11 Achievement Team and is responsible for the outcomes of students in Years 10 and 11. Mia joined Saint Gabriel's College as head of Maths in 2014 and lead the team successfully through an Ofsted that saw the school move from 'Requires Improvement' to 'Good'. Mia's passion and drive to obtain the best outcomes for students is evident in her teaching and her work conducted as a senior leader.
Craig Adams - Teaching and Learning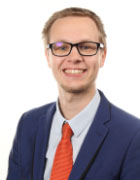 Craig Adams joined the Geography department as a trainee teacher in 2012 via the Teach First Leadership Development programme after gaining a BSc in Environmental Geography from University College London. Since then he has held a number of positions of responsibility including Head of Blue Learning Community and Head of Humanities. Currently, Craig Adams is responsible for providing leadership and management of the quality of teaching and learning across the school. He supports all teachers, including those new to the profession, to be highly effective classroom practitioners as well as providing a range of high-quality professional development opportunities for all staff in order to further enhance their practice.
Bethan Tanner - Curriculum and Challenge Ambassadors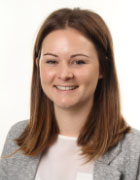 Bethan Tanner is Associate Assistant Principal. She is the strategic lead for curriculum development and review, including enrichment opportunities. She also leads on the college's Challenge Ambassador programme. Further to this, Bethan is Head of Science, having worked as a teacher at Saint Gabriel's College since September 2012. Outside of work, Bethan strives towards a goal of exploring as many countries as possible. Recent adventures include trekking around Indonesia, an America road trip and experiencing rural Cuban culture.
The Revd Ellen Eames - School Chaplain
Mother Ellen Eames is the School Chaplain. She is responsible for the spiritual life of the school, supporting students and staff of all faiths, and she works with the pastoral team to offer care and support to students, families and staff. Her leadership role includes work with primary schools, community outreach, and helping the school participate in social justice through our membership of South London Citizens. Mother Ellen was a priest in Scunthorpe, Diocese of Lincoln, before joining the school in 2012. Together with students from Saint Gabriel's, Mother Ellen helped develop the Refugees Welcome Schools programme, of which our school is proud to be a founder member. Mother Ellen is Assistant Priest at St John the Divine, Kennington, our parish church, where she can be found on Sundays.
Vinay Gupta - School Business Manager
Vinay Gupta is the School Business Manager. He is responsible for finance, premises, catering, IT, HR and website for the school. He also runs the Student Council. Vinay has worked with Saint Gabriel's College since Jan 2015 and previously worked as a corporate banker in the City of London. Outside of work, Vinay passionately follows the exploits of the Indian cricket team and mentors for a charity which supports refugees.